Starting from Monday, January 22, a TV Tokyo program called Minnade Sansu Kyukyutai ("Let's Study Mathematics Together") features a song with the same title performed by Kigurumi.
The program starts at around 7:30 A.M. on Mondays to Fridays.
Visit the program's website (Japanese only)

Kigurumi sing a song for Kyowa Medetai ("Today Is a Happy Day") on Ponkikki, a Fuji TV network program.
Check your local listings for air time.

"tarako tarako tarako" was awarded the top10 prize in the 2006 buzzwords-of-the-year contest.

Kigurumi's "tarako tarako tarako" was awarded a special prize of The 48th Japan Record Awards.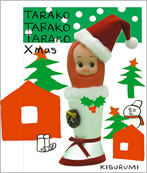 The Tappuri Christmas BOX, including a DVD featuring the "Tarako Dance," will be released on Wednesday, December 6.
Since the DVD features a dance lesson taught by the KIGURUMI duo, you will be able to master the "Tarako Dance" to perfection! Why not learn the dance and enjoy it with your friends at Christmas and yearend parties?
Also included on the DVD are all of the Tarako Pasta Sauce commercials in their entirety.
The CD features the Christmas version of "tarako tarako tarako" and KIGURUMI's own original Christmas song "Merry, Merry Christmas"!
What's more, you will also receive Tarako Kewpie's first-ever Christmas goods!

January 25 (Thu) NTV "Cream stew No Tariraride Ikimasu" (a show hosted by two comedians calling themselves Cream stew)
January 12 (Fri.) TV Asahi "Music Station Two-Hour Special" Kigurumi's first Super Live segment.
December 30 (Sat.) TBS "The 48th Kagayaku! Nihon Record Taisho(Japan Record Awards)"
December 22 (Fri.) TV Asahi "Music Station Special SUPER LIVE 2006"
December 10 (Sun.) NTV "Gyouretsu no Dekiru Houritsu Soudanjo"
December 6 (Wed.) Fuji TV "FNS Kayousai(Song Festival) 2006"
November 28 (Fri.) NTV "Odoru! Sanma Goten"
November 6 (Mon.) Fuji TV "HEY! HEY! HEY! MUSIC CHAMP"
October 25 (Wed.) Fuji TV "Sakigake! Ongaku Banzuke (Music Ranking)!"

The cover of the weekly Shukan Asahi edition that goes on sale on Tuesday, January 30
The March edition of TITLE, on sale on Friday, January 26
Interviewed for the December issue of "Shogaku Rokunensei," published on Thursday, November 2.